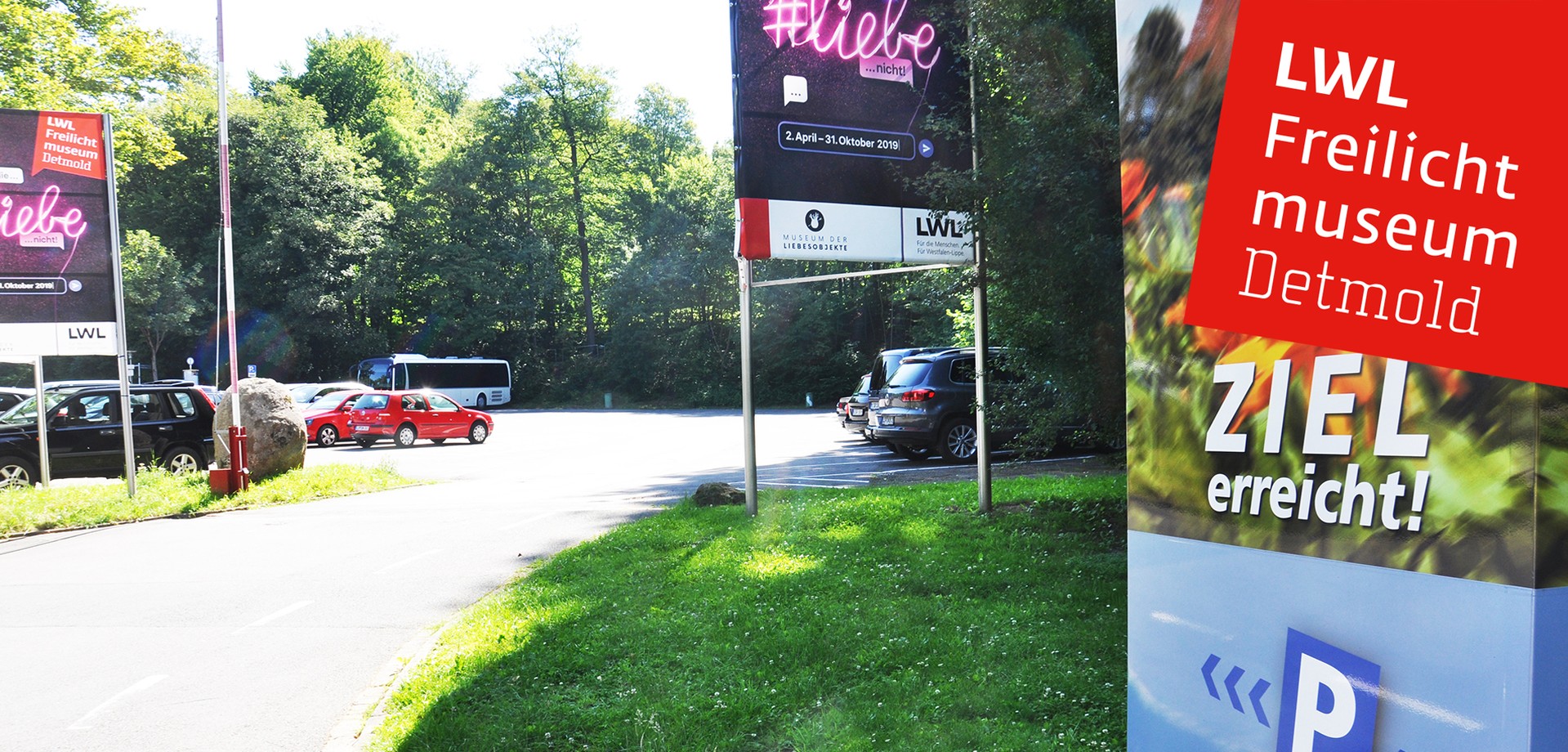 Purposefully to the museum
Our museum is easy to find.
You can reach us by car, bus or bicycle.
Further information on arrival and parking facilities can be found here.
By car
From the north:
Take the A 2 exit Herford / Bad Salzuflen, B 239 direction Detmold / Horn-Bad Meinberg and follow in Detmold the signs "open-air museum" / Freilichtmuseum.
From the west:
Also take the A 2 to junction 27 Kreuz Bielefeld Zentrum and then take the B 66 direction Lage / Lemgo and in Lage the B 239 direction Detmold / Horn-Bad Meinberg.
From the south:
Take the A 33 to exit 26 Paderborn-Elsen, then the B 1 direction Hameln / Horn-Bad Meinberg to exit Altenbeken / Horn direction Horn, then in the direction of Detmold to Heiligenkirchen, continue on the Paderborner Straße direction Detmold.
Parking
At the Paderborner Straße there is a large parking lot.
You can also use the overflow car park at Friedrich-Ebert-Straße on special days such as FRELICHTgenuss and MuseumsAdvent. This is only about 10 minutes walk from the open-air museum.
Wheelchair users and physically handicapped people are allowed to use the parking lot near the Paderborn Village.
By bus
Riding by Bus from Detmold central station
Bus 701 direction Berlebeck to the stop Sommertheater
Bus 703 direction Hiddesen to the stop Sommertheater
Bus 782 direction Bad Meinberg to the stop Sommertheater

Further information: www.stadtverkehr-detmold.de
From Easter to October
Touristic Line 792
Further information: www.naturparkbus.de
Adress
LWL-Open-Air Museum Detmold
Westfalian State Museum for Rural History and Culture
Krummes Haus
32760 Detmold
Phone: +49 (0) 52 31 / 706 - 0
Fax: +49 (0) 52 31 / 706 - 106
Mail: lwl-freilichtmuseum-detmold@lwl.org
For further questions please contact our info office:
Phone: +49 (0) 5 23 1 / 706 -104
Mail: infobuero.detmold@lwl.org